This page is for viewing purposes only.
Download the PDF for the full size pattern and it's instructions.

<< BACK TO PATTERN LIST

DOWNLOAD PDF >>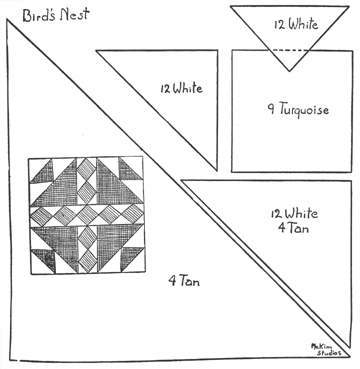 BIRD'S NEST

A BIRD'S NEST in soft tan chambray or broadcloth is contrived along modern angles to enclose nine bright blue-green cubist eggs. The whole forms a really lovely block to use in a whole quilt or for a gay little patchwork pillow about 14 inches square. By the way, a boxed edge of the blue squares and white triangles would be a perfect finish for such a pillow. It would even be worth while to piece such a border for the quilt.

Cardboard cutting patterns are made from the 5 here given. Mark around these onto material, but cut a seam larger sewing back to the pencil line.

Material Estimate: This quilt sets together with plain white blocks and a six-inch border which makes it finish about 82 inches square. For the 13 pieced blocks and 12 plain ones, and border you will need 1 1/2 yards of tan, 1/2 yard blue, and 7 yards of white.