This page is for viewing purposes only.
Download the PDF for the full size pattern and it's instructions.

<< BACK TO PATTERN LIST

DOWNLOAD PDF >>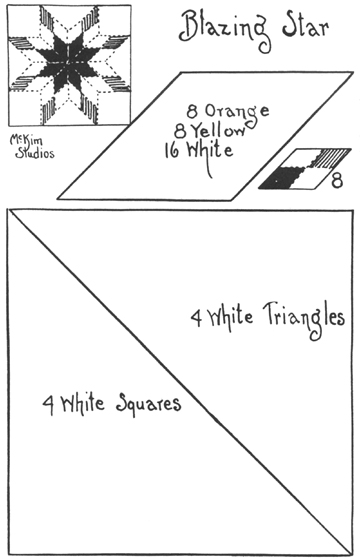 BLAZING STAR

There are ever so many quilt patterns but none are more charming than this shaded eight-point one often called the Blazing Star. Eight little diamond-shaped four patches are pieced and set together with background triangles to form the block.

Any grouping of colors may be used, and a third color, as lighter yellow or pale green with the above plan of yellow and orange could be used instead of the white diamonds. With seams added to the cutting patterns here given the block finishes about 13 1/2 inches square, or without seams added, 12 to 12 1/2 inches.

This quilt sets together with alternate plain blocks, and includes 21 pieced blocks, 21 plain blocks and is 6 blocks wide by 7 blocks long plus a 2-inch border which makes it finish about 80 by 93 inches. It requires 1 yard orange, 1 yard yellow and 6 1/2 yards of white. Allow one yard extra of orange for the border.